Hello friends and family and ski buddies from around the world!
I have just returned from my last ski event of the year, the E1 Selection process. It was an incredible and intense couple of days on snow with some of the top instructors in our division, and I was really happy with my results.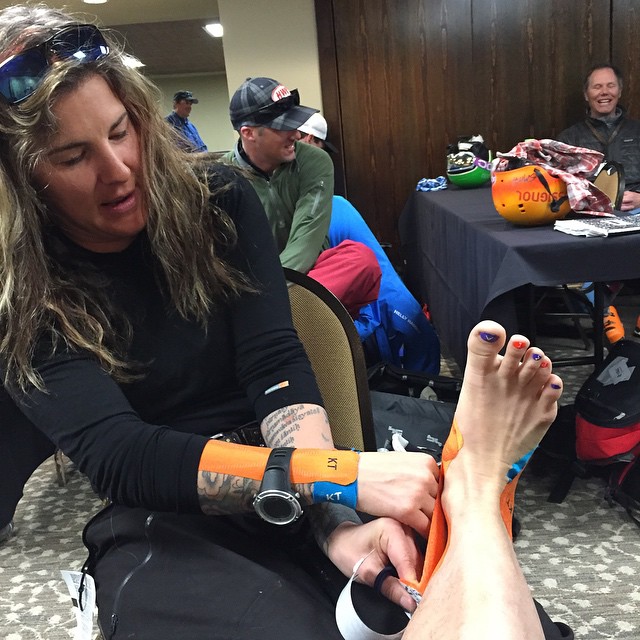 (Prepping for Day 2 of examiner selection for the RM Division on-snow. My best event yet, and even better because the team trying out was incredibly strong. )
I was not selected to work as an examiner, but I was happy to go to the tryout and give a strong showing. I'm very very proud of SIX good friends who were selected to the Ed Staff, they were inspirational to ski with and fun to train with. As usual, I'm blown away by the strong sense of community in this sport.
I'm happy to say that my feedback was that I was close to getting selected, and I received strong support from the selectors to continue on my quest for further selections next year. I have work to do in my skiing, and in order to accomplish that, I need to be stronger, more fit, and have more time on snow.
My training so far is paying off, and in order to continue on that path, my training will only increase in intensity from here!
If you would like to be a part of that quest, please leave an encouraging comment or help by contributing toward covering the overall training expenses from September 2015 to the tryouts in April 2016.
Follow this link to contribute:
http://www.gofundme.com/katesteam2016
Please do not feel obligated to contribute, and know that encouraging words mean just as much to me as helping ease the burden on the major sponsors who have been helping me achieve my goals thus far!
If you have friends or family who would like to be a part of this adventure, please feel free to pass this link along. At this time, I am only sharing it directly by email and from my blog, skiingintheshower.com as opposed to openly on social media.
Thanks very much for your time, energy and for all the support over the last eight years!
Kate Howe
A little more about the journey: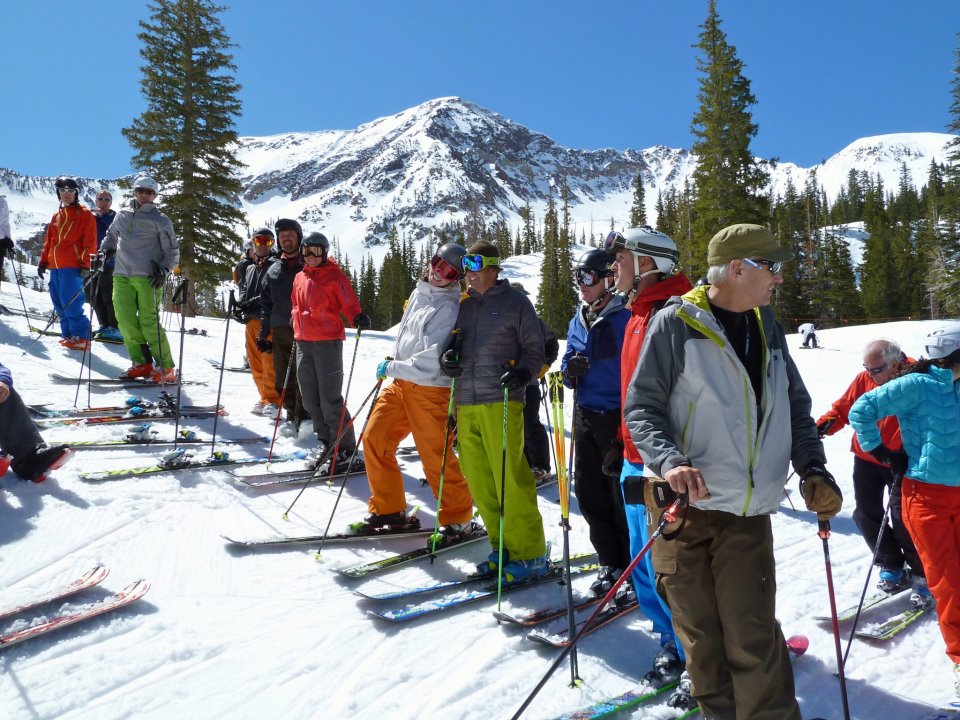 (Candidates and Selectors during the 2012 PSIA National Alpine Team Selection)
As many of you know, since 2006 I have had the dream and trained toward becoming a member of our PSIA National Alpine Instructor Team.
The first six years of training included taking over a dozen pre requisite clinics, driving all over the West, sleeping in my truck and passing four levels of certification in both the Rocky Mountain and Northern Rocky Mountain division.
It was only through the generous sponsorship of the ski companies that support me and many other instructor athletes (Blizzard/Tecnica, POC Helmets and Armor, Leki Poles, Strafe Outerwear, Gibbon Slacklines), and the combination of contributions from individual donors (and one major donor without whose support I would not have been able to recover from major spine surgery and find myself on the snow at the 2012 tryout just six months post surgery.) that I have been able to come as far as I have.
And I'm not alone. This is a journey that hundreds of ski instructors embark on, a journey of at least a decade (that's on the short side.) This is an endeavor of training and dedication that is entirely funded by grass roots efforts, friends and family.
My feedback at the 2012 National Tryout was "We'd like to hire you. Please try out again next time, and please work on your skiing until then!"
This year, after I returning from India with my family in December of 2014, I had identified areas of weakness that I needed support in in order to overcome some obstacles on the journey. They were overall core strength, explosive strength in the hips and legs, mental performance during clutch situations, and depth of technical understanding.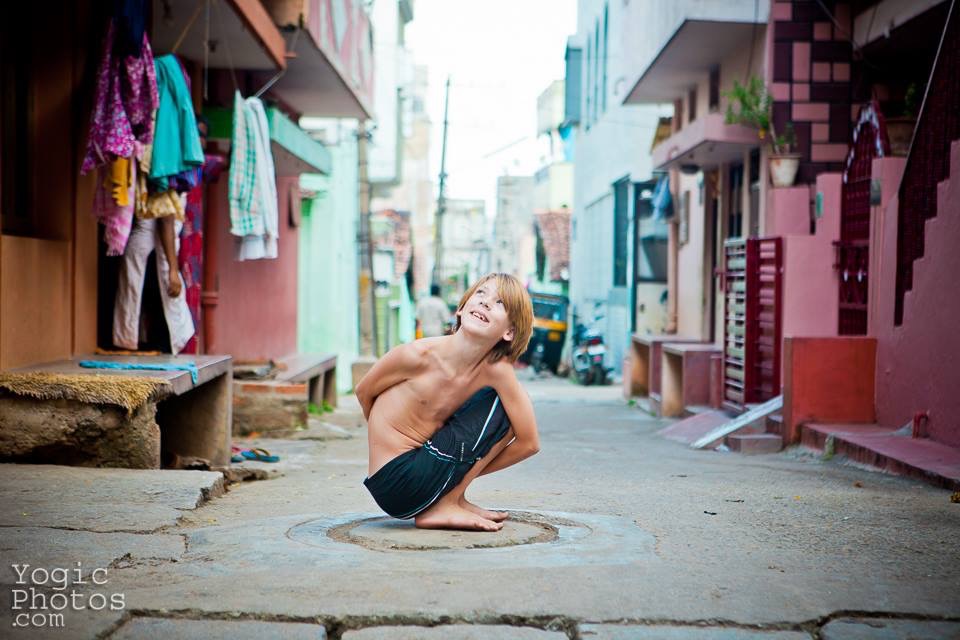 (Ethan in Mysore, India, demonstrating Pascasana, a second series Ashtanga posture.)
I spent some serious soul searching time deciding if I was physically, mentally, and emotionally capable of training at the level that this kind of commitment demands, and I spent a lot of time talking with my kids and their dad about what this would take.
I am honored to know that my entire family has a deep faith in me, and is squarely behind me in this persuit. With that go-ahead, the fire was lit, and I committed again to trying out for the 2016 National Team.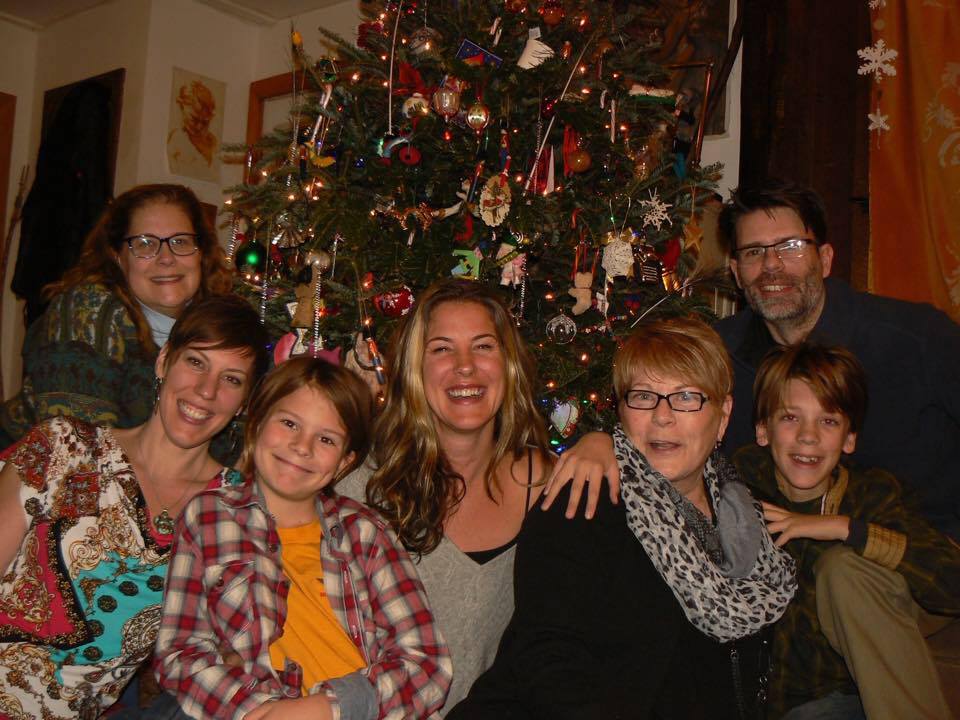 (My amazing family, we support each other in all of our crazy adventures. They taught me to go for it, they stand behind me, and I behind them, every step of the way!)
In order to get my skiing up to par, I hired an elite team of trainers and coaches to work with me physically, mentally, and on my skiing. I am honored that these top coaches have agreed to partner with me on my road to 2016.
They include
strength coach Bill Fabrocini
PT, OCS, CSCS, and former physical therapist and strength coach of Olympic Snowboard champions Gretchen Bleiler and Chris Klug. Bill is currently the rehabilitation and conditioning advisor to the Chivas de Gaudalajara professional soccer team n Mexico, and strength coach to professional cyclist Tejay Van Garderen.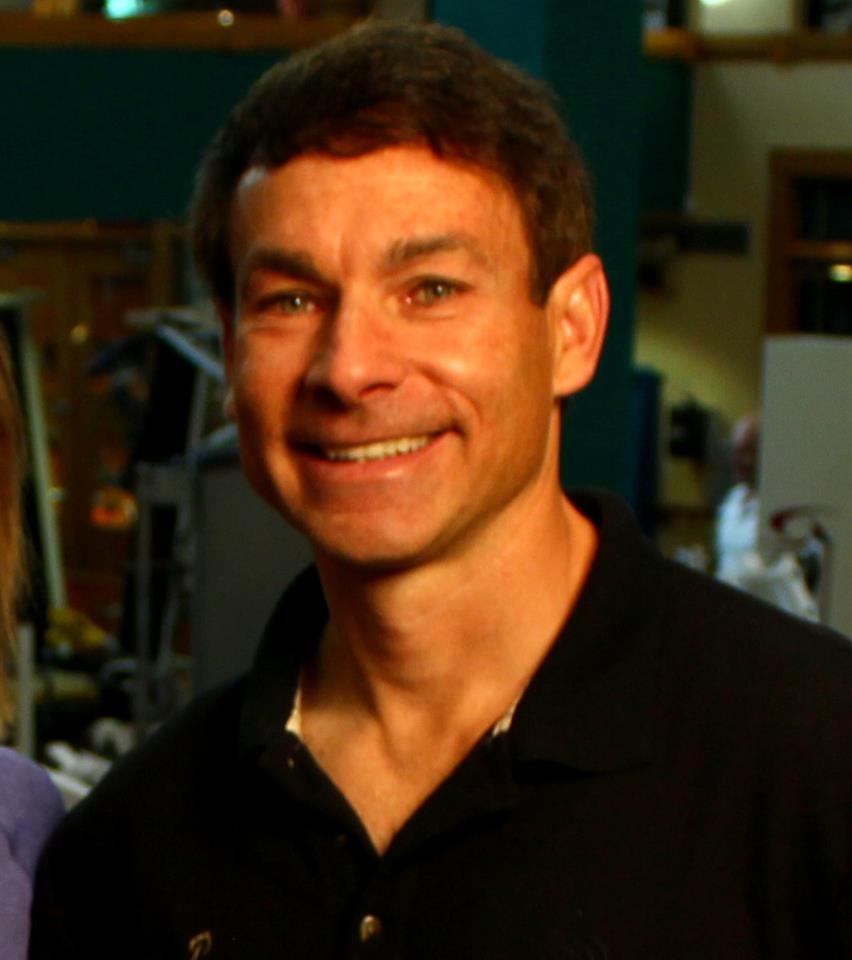 (Bill Fabrocini at the Aspen Club)
Mental Performance Coach Thomas Crum
is an author and presenter in the fields of conflict resolution, peak performance, and stress management. He is known throughout the world for his interactive live presentations and his three best-selling books. Recent clients include the NFL's Miami Dolphins and the Navy SEALs.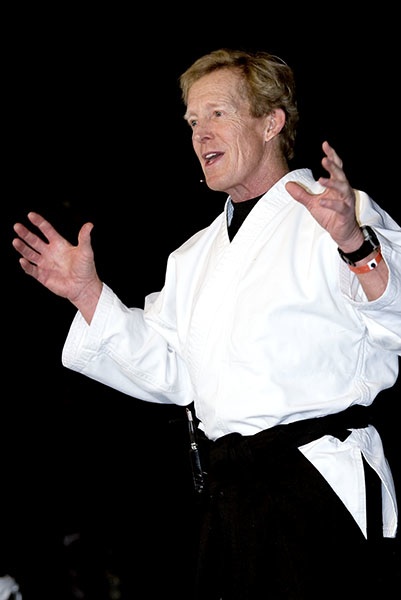 (Tom Crum delivering inspiration and strength)
Technical Skiing Coach Jonathan Ballou is a current member of the PSIA National Alpine team, and spends his northern hemisphere winters as the Training Manager for the Ski & Snowboard Schools of Aspen/Snowmass and as an Examiner and Alpine Committee Chair for PSIA-Rocky Mountain Division. In the other winter (deep south), Jonathan works as a trainer for the Rookie Academy and an examiner and education coordinator for the New Zealand Snowsports Instructors Alliance.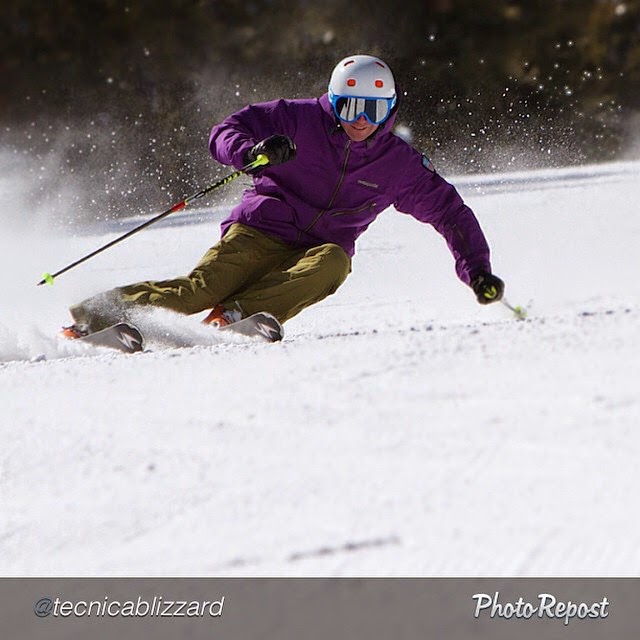 (Jonathan Ballou doing what he does best.)
Training Partners and mentors Kurt Fehrenbach and Megan Harvey were both members of the PSIA National Alpine Team, examiners in the RM division, and current trainers for the ski schools of Aspen/Snowmass.
(the unstopable Megan Harvey, my mentor, friend, and faith fuel cell.)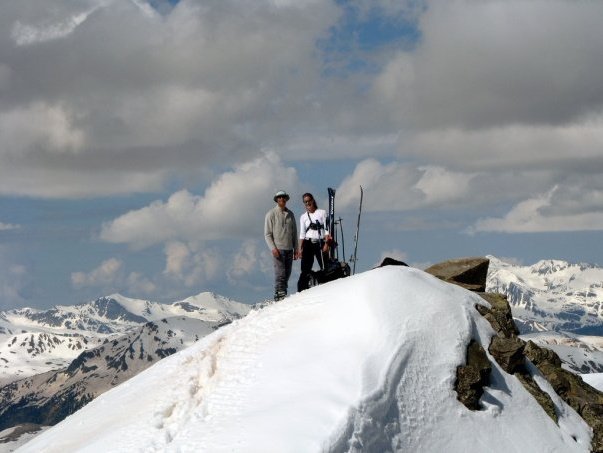 (Kate and Kurt atop Geissler Peak in 2010, training for the 2012 tryouts)
Master Bootfitter Brent Amsbury is the key link in the chain. I can be as strong, present and ready as possible, but without his incredible skill, I wouldn't be able to make a single turn.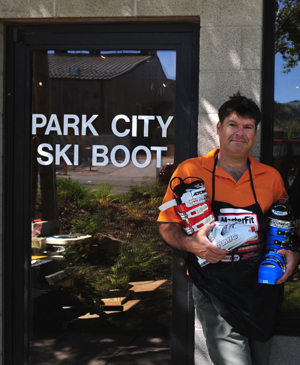 (Brent Amsbury, Master Bootfitter)
Each one of these outstanding coaches has agreed to put their name next to mine, standing by me in my persuit of my goal, while they are all striving to achieve their own goals in their own lives. I am incredibly honored to be associated with them, and am amazed at the depth of dedication they have to me. Many of them donate their time to my training and mentorship, and that is a gift that I could never ever repay.
I have worked this team since January of 2015, and the results in my presentation, preparation, and execution under pressure are incredible. In April of 2015 I went to the Examiner Selection in Vail and had my best showing to date in a high level selection mostly due to working with this incredible coaching staff.
I feel confident that if I can continue to work hard with this coaching staff for the next year, I will be a strong candidate for selection at the 2016 National Alpine Team Selection in Snowbird, Utah, as well as for the 2016 Examiner Hiring selection.
Unfortunately, training at this level for a year is incredibly expensive, not just for me, but for all athletes who aspire to this goal.
If you are able to contribute to my training fund, in gratitude, I will send you a Kate's Team 2016 T-Shirt or Mug of your choice.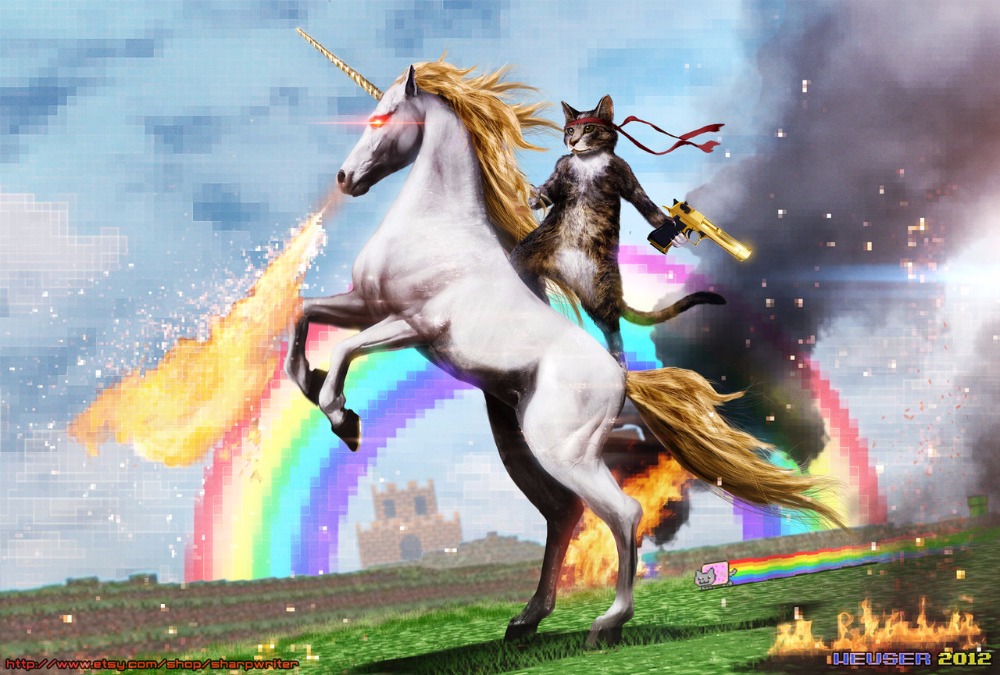 (it's likely the shirt and mug will have this image on it, or one very similar. Because what could be more awesome than a unicorn that snorts flames, ridden by a bad-ass cat?)
(Details on minimum donation for gifts are at the go fund me site
http://www.gofundme.com/katesteam2016
)
Thank you for your time and energy, and all of the support I have recieved over the years!
If you would like to know
more about supporting other instructor athletes and the PSIA National Team
in general, please visit:
https://www.thesnowpros.org/Interski2015.aspx
Kate Howe