Sometimes I get some emails about what gear I am using and how I am liking it, so I've updated the "Gear I Use" section. There's more to come, I have some Avy gear to write reveiws about and some clothing, but for now, Enjoy!

Skiing Gear:
http://www.blogger.com/img/blank.gif
I'm on the Elan Magfire 12 with WaveFlex technology from 07/08, and I LOVE THIS SKI! It's heavy. It's hella heavy, actually, but I like that its a crud buster that way. Wide enough that its not a total torpedo, I hike in the back country with these in places like the Beartooths where you are just shouldering and lapping. Rob Sogard told me, train heavy, don't be a pussy and carry your back country skis if you are out for less than a day. Yes, sir. If I'm bootpacking, it's with my nimble little freight trains.
These skis are incredibly springy, responsive, I have sensation right from the tip, the transmission through the binding is outstanding, the binding is flat, not ramped, so it doesn't screw with my angles at all... I'm in a 164, and when I put them on, it seriously changed my skiing.
People have asked me if its the gear that did it, and my answer is, this is the first time that I'd put on a ski and didn't feel like I had to have a discussion with it. Or an argument. I moved my foot, I felt the tip and tail, the ski did what I was hoping it would do. Because of this, I didn't have to worry so much about my feet and could start focusing more on my other body mechanics, and made some serious movement pattern changes in a relatively short amount of time, which was awesome.
This is the ski that made me want to ride for Elan forever.
I'm really really new to racing, and these are the WC stock skis, so... hang on to your hats. I was worried that I wouldn't be able to bend or drive them, but they feel just as amazingly integrated to my body as the Magfires do. I demo'd a LOT of skis before going with
Elan
, and I have to say, I am a fan of the wave flex, I believe that it absorbs some of the leg numbing, muscle tiring vibration without reducing, and maybe even enhancing, your extended sensory perception of the snow you are coming up on.
Quick, nimble, strong, and easy to talk to. These skis tell you what you want. But its easy to give it to them, and the reward you well when you do it.
I was worried that this might be too stiff of a boot for me, and
Brent
, when he worked on them, did some magic to increase the flex a bit, but I have to say, I LIKE being in a higher performance boot. I have messed up feet so boot fitting was essential to me, but the sensitivity that I get not JUST in the bottom of my foot, but all around, combined with a stiffer flex was just amazing. I was comfortable and happy, but really felt able to put myself in a gas pedal position on the groomer and move through it, as well as lighten up in the skied out crud. I love this boot. And, you know, it's orange. I'd ski em if they were ugly as sin, but these are hot.
I love this helmet because it is so light weight, I forget I am wearing it. I can fit a skull cap under it for those -22 days, it has a visor for sun and snow, which really helps, (although I have to perch my goggles on the visor when I'm not wearing them, which I'm not crazy about), but best of all, I CAN HEAR OUT OF IT!
POC
does an incredible job with their R&D, really exploring impact and crumple, focusing their energy on having their gear absorb the impact so your body doesn't have to. I wouldn't ride in anything else.
Yeah, its a bit unorthodox, but this is the helmet that keeps the downhillers alive when they wreck, and although full face is controversial due to neck snap issues, I knocked myself out with a "glass chin" fall last year. This helmet is warm, breathes and will keep my brain in one piece. Which I'm grateful for since I just suffered a traumatic brain injury in my car. This is my helmet for off the ridge, this is the helmet I will take to Alison Gannet's Rippin' Chix camp.
Why the heck does lil ole Kate Howe need Body Armor? Because I want to make it to my tryout, and I wreck a lot! I'm trying to compress about 20 years of skiing experience in to 5. I end up on my face. I've seperated both shoulders, and messed up my spine in a car wreck this fall, not to mention old figure skating injuruies that make me feel like I'm 90. The armadillo like plating on the back protector is awesome, it bends both ways, the construction "heavy lifting" type belt reminds me to pull my navel towards my spine, promoting good skiing posture, and I feel better about my next big wreck.
I usually just take the spine protector off and wear that, but in my first two days in camp, I had the whole thing on under my speed suit, and I was happy about that when I wrecked on aforementioned shoulder! Didn't hurt at all. Also def. wearing this on days when I'm learning to do drops or other. Plan to spend a LOT more time in the air and on steeper terrain and in gnarly bumps this year, must bring my skiing up, so I am happy to be well padded! I just found out that there is now a cervical spine protector that snaps on to this, so I am excited to protect my bulging cervical discs with this new feature!
This is a great glove, I've tried a bunch, my fingers just weren't warm enough in Hestras, and I've always had to ski in mittens. Not only are these gloves VERY warm, I was able to ski gates in them without any pole guards! Well padded, well designed for easy on/off but still a nice, snug fit.
EXCELLENT Spring Skiing glove, this has also become my glove of choice for shoveling out my car when it dumps. Just warm enough, sensitive enough to drive with, snug at the cuff... I'm a person who hates wearing gloves to do things like buckle boots, or any other tactile job. I like to feel what I'm doing. These gloves get it done for me.
I haven't tried the POC version of the Comp Mitten yet, but on really cold days, this is what I'm in. Very warm high cuffed, easy on and of, great suede thumb for snot soaker, these are pretty terrific mits, thin enough that I can feel my poles when its -25 here in Montana, thick enough that with hand warmers, I don't need undergloves.
I've gone through a ton of goggles in the last three years with several complaints: face fit, field of vision, icing, helmet compatibility, range of lens use... Here are my all time favorite goggles ever! Huge field of vision, great fit (for LOTS of people who have tried them on), no icing issue... plus, you look like you are ready to be shot into space when you wear them!
And here is the high performance Goggle of doom: All-weather goggles with double lenses for those who demand good vision and durability in all situations. In principle, Iris X will never steam up, even with major changes in air humidity and temperature. Available in white, black, brown or orange. There is also a smaller size for smaller faces. Identical to the standard Iris X. Its true. I had a major icing/steaming issue with my balaclava and neck gator today, because of the frostbite concern, switched to these goggles and saw clearly all day.
Here is the beauty of this suit. It fits perfectly. Its padded. Its thick and warm. It comes in bright blue, which I was too chicken to get. And I regret it. I love this thing, it feels great, doesn't bind or ride, stays right where you put it, supports you protects you... And, in Ethan's words... it makes me look like the white Power Ranger! Which ROCKS!
Back Country
K2 Shucksan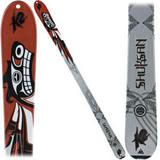 My back country set up is amazing. I have K2 Shuksans (2006) at a length of 170. They are incredibly light and nimble, a very forgiving ski. The only conditions they don't love are frozen crud, as they tend to skidder rather than want to bite. This also may have something to do with the fact that the conditions I don't love are frozen crud, but it can't be me… let's blame it on the gear. These skis can float in powder, skim through crud, and even carve. I love 'em, and they let me cheat, which ain't bad, either.
Garmont Mega Ride
My boots are Garmont MegaRide (26.5 mondo, but I think I will get my next boot in a 25.5) These things are awesome, high, light, soft to walk in, rubber soles … amazing. They packed out pretty severely, and I'll have Jay re-fit them soon, as they have 4 or 5 remolds. The flex is pretty severe, buckled as tight as I can get 'em, and not on walk mode, I can flex them almost to the furthest extent I can flex my ankle! This is one of the reasons I am going to move my buckles back a bit and refit my liners to see if we can stiffen them up a bit.
Dynafit Binding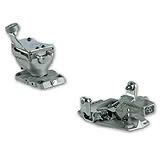 My bindings are the Dynafit bindings, which are super light weight. The DIN goes to 10, and I had them at 6.5 all season. I recently started stepping out of them while pushing hard on my skis, so Jay at Barrel cleaned them and upped the DIN. The bindings are great, I am riding them a bit hard for what they are meant for. They need to be hosed out after every spring ski trip!!
Everyone asks me about these bindings because they are so odd looking, and I have begun to think about what Josh said when he saw them: "Cool, but if I am 3 days out... can I fix them if they break?" Hmmm... The answer, after asking people who have had them for a few years is... take good care of them so you don't HAVE to fix them in the back country. The little plastic piece where you insert your pole to change the riser position is GOING to break. No matter how careful you are. I wish they were an ounce heavier and made of metal.
The package overall is unbelievable for the back country, it weighs nearly NOTHING, but I taught in this set up all season, and the loss of energy transfer due to the hyper flex, and the light tiny bindings on the noodle skis is starting to show in my ski performance in the resort.
Still To Come;
Ortovox Avi Beacon
Avi Probe
Black Diamond Quick Shovel
Black Diamond Covert Avalung
Osprey Spring pack
Black Diamond Guide Skins
Training Gear
Hydration Systems: CamelBak Bottle, CamelBak Isis
So, I love this bottle. And its not just because it has the world's greatest motto on it, "Hydrate or Die!", but it is easy for me to drink a gallon of water a day.
A couple of years ago, Tom and I took the
WFR
, which was an amazing experience in and of itself, but one of the biggest things i took away from it is how many maladies are just directly related to poor hydration.
Unless your pee is CLEAR, ODORLESS and COPIOUS, you are dehydrated! Holy CRAP! Thats 90% of us. Headaches, clumsiness, heat stroke, malaise, poor performance, depression (yes, really, actual clinical DEPRESSION is affected by how much water you drink!) and on and on... My beautiful little nurse friend, Virginia, put it this way:
Imagine your vascular system is a set of pipes that can constrict. Now, dehydrate your blood a bit, so it is like sludge. To keep pressure in the system to push the sludge, the pipes have to constrict, because sludge doesn't flow as well. Now, you have a headache. So you drink some caffeine, which is a vaso dilator. Now you feel better, but in about a half an hour, you feel jittery and woozy. That's because there isn't enough pressure in the system. So your pipes constrict, or you go lay down. And then drink more caffeine. Are you sensing a pattern here?
One of the BIGGEST issues is with winter athletes, because we don't recognize that we are loosing and using fluids when we are cold. But you have to drink just as much!! This year, I am going to buy a Camelbak Sno Angel
to go under my instructor jacket. I wish I had a picture, but I wore my Isis pack on the outside of my jacket for the first month or so before Kurt had to pull me aside and tell me "you know, Kate, this isn't really... uniform." I argued it with him. It matches. It is
Bridger Bowls
' Colors! No dice.
So anyway, I use this great bottle, I actually have five of them, (so my kids each have their own, and I have two with me, one always has SOMETHING in it.) I fill it with ice, it has a straw, so I can sip without opening it or spilling it. I am sad to find out that the plastic has been discovered to leach into the water, which can be very dangerous! I hope that CamelBak comes up with a stainless Steel bottle, because there are few brands I am super loyal to, but CamelBak is one of them.
My Isis is an amazing thing, it is a women's fit backpack that has a 100ml capacity, and straps down tight, so I can carry enough stuff for a 26 mile hike, (rain jacket, emergency blanket, first aid kit, water filter, map, food for two days, sun screen, bug spray... hat, sunglasses, athletic tape, my wildflower book... yeah, its a lot!) and then I can strap it down tight and actually RUN with it. It's the best CamelBak I've ever had, and I've had several.
Haflinger Wool Slippers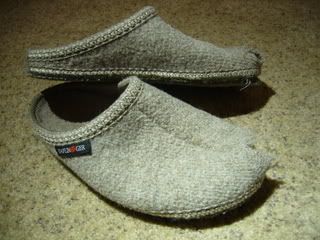 Ahhhhh... okay, so when I get home, I put on my very favorite slippers ever. Trust me, I have tried EVERY freakin' slipper out there. I am all about warm, soft, and barefoot.
Huzzah to Haflinger! At $60/pop they are definitely the MOST expensive slippers I've ever owned. But BUT BUT!! They are super soft, warm, dry, and DON'T STINK when you wear them barefoot all day!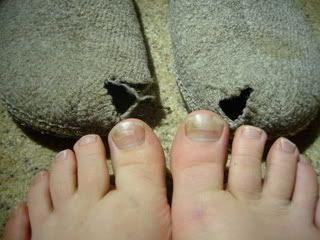 Made of thick, non-itchy boiled wool, it's like walking around with someone hugging your feet all day. As you can tell, I've had mine for a year (I told you I was hard on shoes) and they've very accommodatingly worn holes in the toes where my poor big toes need to breathe.
FYI: my sister has the same slippers, and hers don't have holes, that's just me and my gnarly feet.

Training Gear:
Solomon XA Pro 3D XCR trail running shoe
These are my Solomon XA Pro 3D XCRs from last season.
About $90, things I love: super light weight, fast drying, quick on and off, nice closure, cushy footbed.
Not so psyched: The sole lasted longer than the shoe for me! The shoe offered great support for the first month, and then began stretching out quite quickly. Now, when I close it up, I have to tuck the laces in because I have to crank down the shoe so much!
A fun shoe, great to run in, but if you are a serious hiker logging lots and lots of miles, buy two pair, or three, they won't last a whole season. (Well, the sole and footbed will, but the support just won't.) I'll probably give these one more try and see how this season's stacks up.
The North Face Gore Tex XCR Trail Running Shoe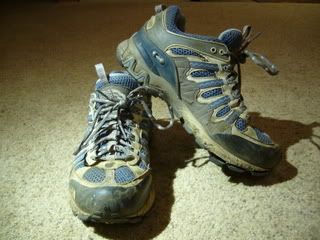 Okay, it's that season of the year when shoes become really really important. These are my
North Face Gore Tex XCR's
from last season. At about $110, they are a bit pricey, but well worth the dough!
Now, a caveat here: I am really freakin' hard on shoes. They have that new shoe feeling for me for about a month, and then most shoes are all compacted, broken down and just useless to me. I am also really REALLY picky about fit and comfort because I have chronic frost bite on both my big toes, whose toenails are always on the verge of coming off... so I'm hard to please.
And I have to say that TNF did it. They made my feet happy for almost 6 months before they started breaking down. These suckers are almost still goin' strong a full year and a half later! I think they have about 600 miles on them at this point, and the sole is finally coming off the last. I can also feel rocks through the compacted foot bed. BUT! They are STILL stable! Yes, indeed, they have softened quite a bit, but out of the hundreds of pairs of shoes I have run into an early grave, this sucker could take a re-soleing and probably last the summer.
They are a bit heavier than most would think they want (just over 1 lb), but again, I've worn lots of them, and heavier seems to equal bomber in this case. When they are dead, I am going to replace them with another pair by TNF, you can count on that!!
Now, let's test their customer service: I'm sending them in to see if they will fix the sole. Stay tuned!
Nike Triax Elite HRM/SDM

Crap. Crap and double crap. I have had this $275 heart rate monitor for a year. The SDM (speed and distance monitor) only works accurately on a 100m track. So, not so much with the hiking.
The watch has a little guy on a bike on it, but there is no way to use the watch on your bike. I called Nike, they said, Yeah, we wanted it to work on a bike, but we couldn't make it happen. The newer watches don't have that little bike icon. Fabulous. So much for the TRIAX (triathlon?) training tool.
It works in the pool but I have to strap my watch to my bathing suit on the shoulder or it won't read.
The data is amazing and interesting, but only when it works, isn't corrupted or lost.
I have emailed and called Nike numerous times, and have never heard back from them.
Long story short. Don't buy a Nike heart rate monitor. It breaks my heart to say it, I want the new Nike Ipod+, but with the customer service (or total dearth thereov), I wouldn't dare spend a dime, because I know if something goes wrong, Nike's response is gonna be... Tough sh*t.
So, I'm in the market! Anyone have a HR monitor that does SDM, Pool, Vertical Feet, Total Calories, Tracks HR in and out of zone, and downloads info to your computer so you can analyze your data? Post a comment here and let me know!!
****
Update: Nike answered, and asked what they could do. I asked for my money back. I haven't heard back yet. On the plus side, I decided to buy a
Suunto T6
with a GPS SDM! Josh Foster's recommendation. Thanks, Josh, good idea! If Nike ever sends me my money back, that's where its goin'!
Clothing:
Performance or Race Base Layer:
Skinz
Patagonia
Wool Base Layer
Pant
Shell
Down Sweater (!!)
Mid Layers:
Mountain hardware
Sugoi
Smart Wool
Boot Heaters:
Thermic Systems