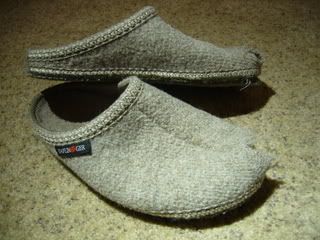 Ahhhhh... okay, so when I get home, I put on my very favorite slippers ever. Trust me, I have tried EVERY freakin' slipper out there. I am all about warm, soft, and barefoot.
Huzzah to
Haflinger
! At $60/pop they are definitely the MOST expensive slippers I've ever owned. But BUT BUT!! They are super soft, warm, dry, and DON'T STINK when you wear them barefoot all day!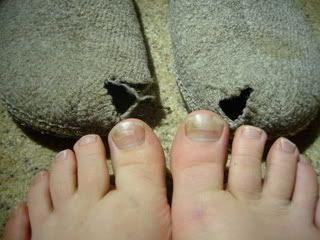 Made of thick, non-itchy boiled wool, it's like walking around with someone hugging your feet all day. As you can tell, I've had mine for a year (I told you I was hard on shoes) and they've very accommodatingly worn holes in the toes where my poor big toes need to breathe.
FYI: my sister has the same slippers, and hers don't have holes, that's just me and my gnarly feet.
The Bottom Line: Nothing beats em!