So Josh Foster and I have been chatting about skiing, what it feels like, how we approach it, and so on, and he sent me these really great photos along with a sort of distilled version of the CSIA's version of the "core concepts", called "Movement In Motion" Read on, its very interesting!! (And yes, that is Josh in the photos...)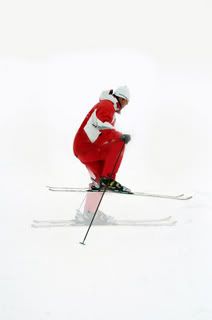 Here's the ski tip that was published to go with the photos. In the CSIA we talk about four planes of balance, vertical, lateral, fore/aft and rotational. Rotational balance is more of an axis than a plane but we lump it in there anyway. The pictures demonstrate lower body movements in all four of these planes. These images all also in line with a concept that we (the CSIA) have called Movement in Motion. This concept describes the relationship between the Centre of Mass (three dimensional balance point of an object, not a fixed point) and the Base of Support (pretty much the feet) in terms of effectively moving downhill. Gravity provides the motion, the skiers contributes movements (in those 4 planes) to deal as effectively as possible with all the stuff happening in a ski turn.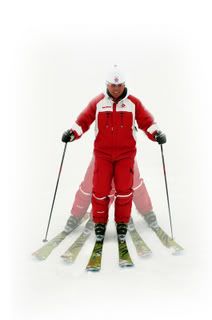 Here's how I look at it, it's a bit out there so see if you can follow it, think of your centre of mass being a basketball and your base of support is a cafeteria tray. Visualize your basketball hovering over the center of your tray. If the tray and the ball were to move down a slope together and they were turning - at any point on the arc if the ball was to drop it should land in the centre of the the tray. This would be accomplished not by manipulating where the ball (COM) is but by positioning the tray (BOS) throughout the turn to support, deflect and capture the COM. Do you see the link between this and the photos?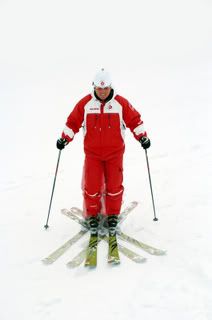 Here's another way to look at it, balance your ski pole in the palm of your hand with the grip to the top. You won't move the grip to keep it balanced, you'll move your hand. Grip = COM, hand = BOS.
An active BOS and a stable COM is the key to balancing on a pair of skis, you've got to ski with your lower body.
Okay, Kate again: I think that the basket ball/lunch tray is an amazing analogy, because it shows that no matter how the center of mass is moving, it needs to be stabilized, ready to be re-oriented, but still connected to the base. Reading this, I think a lot about what it is like to balance on the
Balance 360 board
, how its the tray on top of the ball, but to stay stable, the unit has to move together, in symbiosis.
Thanks for sharing, Josh!
If you have thoughts on this, please post a comment here! (Our skiing community is a bit shy, we've been commenting mostly by email, which is fine, but I'd love for people to get the benefit of all this wisdom!!) (PS, you can post anonymously!)