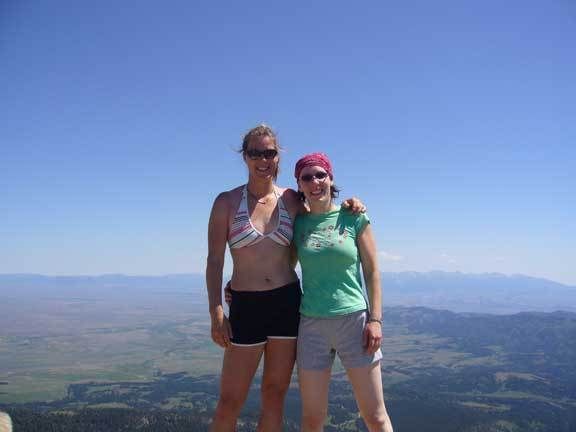 We haven't done this since last year, and it was a blast. Fourth of July morning, Liat and I headed up (kinda late, because we were up playing all night the night before), and trotted up it in the heat.
There were tons of families out, lots and LOTS of kids, the youngest we saw who walked up on his own was FOUR and a HALF! Incredible! What a burly little kid.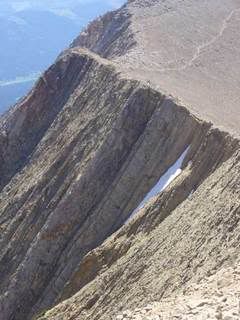 A huge mountain goat leaped in front of us while we had our snack on the top (amidst the giant horseflies of doooom), and Alaska, Liat's lovely but VERY dumb 70 lb pit bull decided it was a big white dog and wanted to play, so she chased it about a mile along the rocky ridge where the trail is NOT. We stood there, just completely astounded, hoping the goat would get away, hoping the dog wouldn't fall to her death, not realizing another option was that she'd could be gored.
It all worked out okay, it was a beautiful day, the goat was fine, the dog came back, and we got to scope out the Great One, which I SILL have yet to ski!
All in all, I love this hike, its a beautiful trip, a great distance, you hike through the forest and out into this rocky exposed area with all these amazing little wildflowers, clinging to the dirt between the rocks, with little pats of snow melting away... and up onto the ridge where you get just breathtaking views of Bozeman and, really, everywhere else. It's a busy hike, lots of hello, and excuse me, but its great. Not a hike for seclusion, more a social hike with a great steep push to the summit.