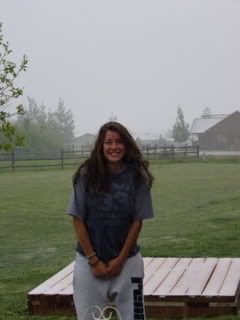 Yes, indeed it has been snowing for the last two or three days. This is Kendra, the stray we inherited who had been sleeping in a leaky tent behind the office without a down jacket.
And yes, indeed, we went swimming. This is the start of guideschool, the first really snowing portion is on the Gallatin (house rock in a blizzard! yeah!), and the sunny pics are of the morning on the Yellowstone. I guided first in my group, which meant I got to run Man Eater, a smallish rapid with lots of fun big waves in it.
Lucky for my, my intrepid leader, Mike, runner of very cold rivers and holder of very strange ideas about spinning boats on rocks and stuff like that, whispered sweet nothings in my ear all the way down about what the river was doing and why. He pretty much talked me through the whole thing, which was great.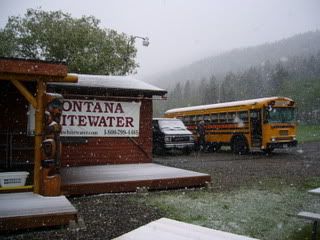 It's still pretty hard to see what I need to do to anticipate what the river wants to do with me and countermand it. Hopefully, that will improve with time, or its flippsville for me.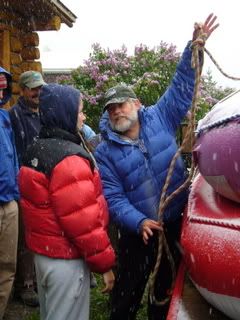 I really want to guide this summer, but Tom and I have figured out that the only way for me to do it is to be up on the Gallatin, and I think that will take about 20 or more trips before I can guide on it. I am not sure how we are going to handle this babysitting wise, as it costs about a hundred bucks a day for me to train, just in paying our awesome Manny, Clay.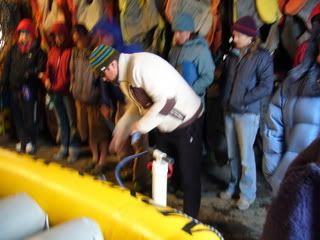 Anyhow, we are trying to figure it out, because the river is incredible, its a dream job, the people are AMAZING, and its a great environment for the kids to grow up around. I really hope to end up in a Safety boat for them on the Gallatin, and to do advanced swift water rescue, and certify as WEMT. There, that's more than you ever wanted to know about that, huh?
Stay tuned and I'll let you know what ends up happening...