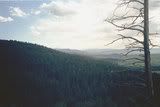 Hiked Kirk Hill to the fire road and across the canyon, down to Leverich Canyon in about 3 hours today with my friend Virginia. I think its like 12 miles or so. Haven't seen Gin in a long time, and she's a bit of a spark plug, so we chugged along, getting a nice sunburn in the process and catching up on old friendships.
We encountered surprise snow up on the road cut and ended up postholeing along the North side of the canyon (sometimes up to our thighs! in short! and ankle socks! brrrrr!)
I wish our camera was working, this is as close as I can come to a photo of my bare legs in the snow, sorry...
Came home and made bean bowls, ate them hanging in the hammocks in the sunshine in the back yard with the kids climbing all over us.
No gym tonight, not enough sleep last night. Hitting it early early tonight for a 12 hour power sleep! YEAH!