Hiked from Kirk Hill to Leverich Canyon again today with my little sister. What a spectacular hike that is. The wildflowers are all coming out, and there wasn't any snow on the road today! We did it in 2 hours and 15 minutes, which is a new record for me (this is just hiking fast, not trying to run it yet.)
Then, headed over to the gym for the first workout since SATURDAY! Ahhhh!! Leg day, we did leg press, seated hamstring curl, dead lifts, squats, standing calf raises and abs on the ball.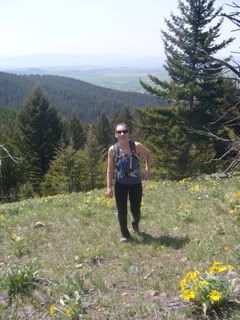 Time to work out to failure and add weight, next week we will be adding exercises. SO excited, I start guide school on Saturday for guiding for
Montana Whitewater
on the Gallitan! The river is GOIN'... and it's gonna be COLD!
On another note, I have been working over at
Spire
this week, training up their instructing staff, and it has been just awesome to be coaching climbing again. If you are local and you haven't been there, these are really great people with a terrific gym. Looking forward to pulling hard this summer!